"I definitely took away the most from people section. It showed me a better way to interact with my staff and those that are potentially in my staff."
"I'm really excited to take the discussions we had about interviews and implement that into the stores so I can get the right people to run the business and make sure that they stay with us by doing my duty as a leader to push them in a direction how they need to be pushed. Really tailor everybody's experience to what they enjoy the most."
MANAGE is a 4-week guided program to help New Franchisees and Unit Managers gain the leadership and management skills to run a profitable Franchise. And to create a secure career path within the Franchise sector.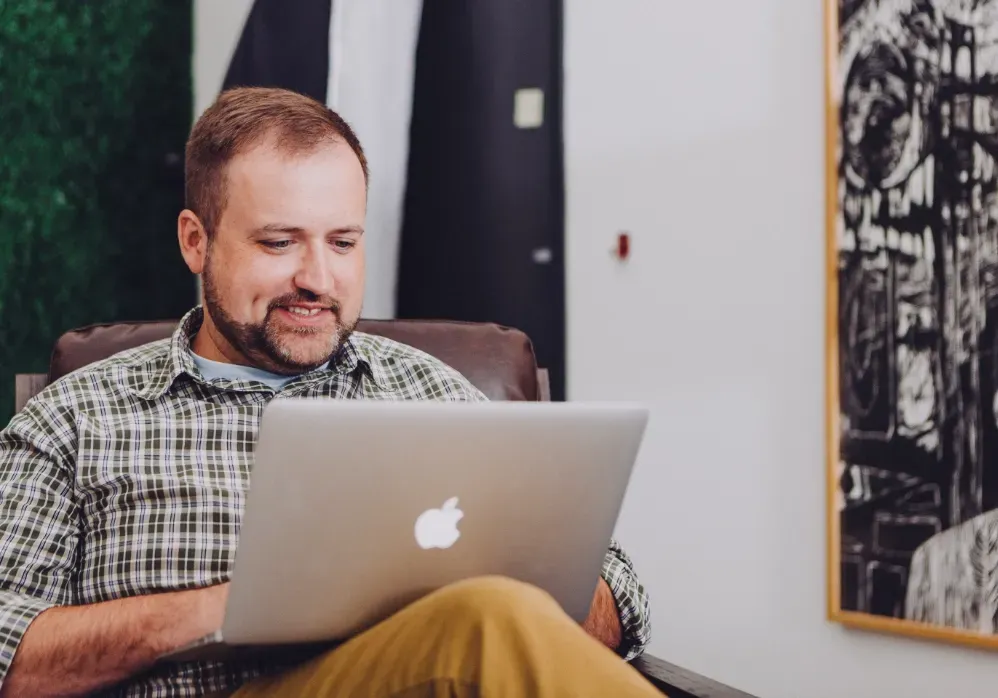 Find out how to become a successful leader and manager of your Franchise
Hire & Retain a Great Team
Managing a Franchise unit isn't as easy as it seems - but with the right training and support, you will become a confident manager and leader
Making the leap from Team Member to a Unit Manager can be daunting. Many new managers and single-unit Franchisees struggle to adapt to their new responsibilities, finding it difficult to lead effectively, increase sales, hire a great team, and control costs. Without proper training, this transition can be overwhelming, and decrease your team's performance and the unit's success.
MANAGE is a comprehensive program that will equip you with the skills, knowledge, and confidence you need to excel as a Unit Manager. So when promotional opportunities come up, you'll be on the top of the list!
"I had a dynamic shift!"
"In the two last months or so, I've really had a pretty dynamic shift. I make sure that there's delegation between projects. I've also been offloading some of my responsibilities onto my team members to make sure that they have the feeling of responsibility to want to come here and achieve goals."
Fast track your management skills in 4 weeks
This industry-leading 4-week program is specifically designed to address common challenges in the Franchise industry. The leadership tools and training will empower Unit Managers and New Franchisees to excel in their roles. With expert coaching, interactive online lessons, virtual instructor discussions, actionable tasks, templates, forms and quizzes, our program helps you master the essential leadership and management skills required to run profitable, sustainable Franchises. 
After MANAGE 1.0, you'll receive a Basic Diploma in Unit Management. You'll then have the opportunity to join MANAGE 2.0 for an additional 5-week course to receive Advanced Certification in Unit Management. 
The curriculum is designed to uplevel your management and leadership skills within the unique context of operating Franchises.
How does the MANAGE program work?
1. Online Learning Lessons
Engage with comprehensive and interactive online lessons, designed to provide you with the flexibility to learn at your own pace while gaining in-depth knowledge and insights.
2. Discussion Calls with Instructor
Participate in enriching discussion calls with expert instructors, offering you the opportunity to clarify concepts, ask questions, and gain personalized feedback in real-time.
3. Implement Knowledge through Action Items
Put theory into practice with actionable items, allowing you to directly apply what you've learned to your business and witness the transformative power of your newfound knowledge.
4. Final Exam to Test Knowledge
Challenge your understanding and reinforce your learning through a final exam, designed to ensure you've fully grasped the course content and are ready to apply your skills effectively.
5. Graduation to Celebrate Accomplishments
Celebrate your hard work and achievements with a graduation ceremony, marking your successful journey through the program and your readiness to take your business to new heights.
Unit Manager Certification Program for Unit Managers
MANAGE is a 4-week guided program to help New Franchisees and Unit Managers gain the leadership and management skills to run a profitable Franchise. And to create a secure career path within the Franchise sector.
Enroll Now
Get the management and leadership tools to turn daily sales into long-term profit for your Franchise unit (and become irreplaceable in your franchise)
Meet your Franchise Management Instructor
Aicha Bascaro, CEO of the American Franchise Academy™, is a professional franchise business growth strategist who has helped hundreds of small and medium franchise and independent business owners become successful multi-unit entrepreneurs. She is a 30-year veteran in the franchise world with companies like Domino's, Popeyes, and Olive Garden.
She is the author of the best-selling books "The Franchise Fix" and "Multi-unit Franchise Mastery". Her expertise in working with business owners to implement systems, develop leadership qualities, provide people strategies, manage risk and cost, and gain profitable growth.

"Aicha brings a wealth of knowledge and context to our conversations. Aicha gives us more value than what we pay for."
"Without Aicha's guidance, we would be in a very difficult situation. If you apply the lessons and everything Aicha teaches - you'll get your money back 10-fold."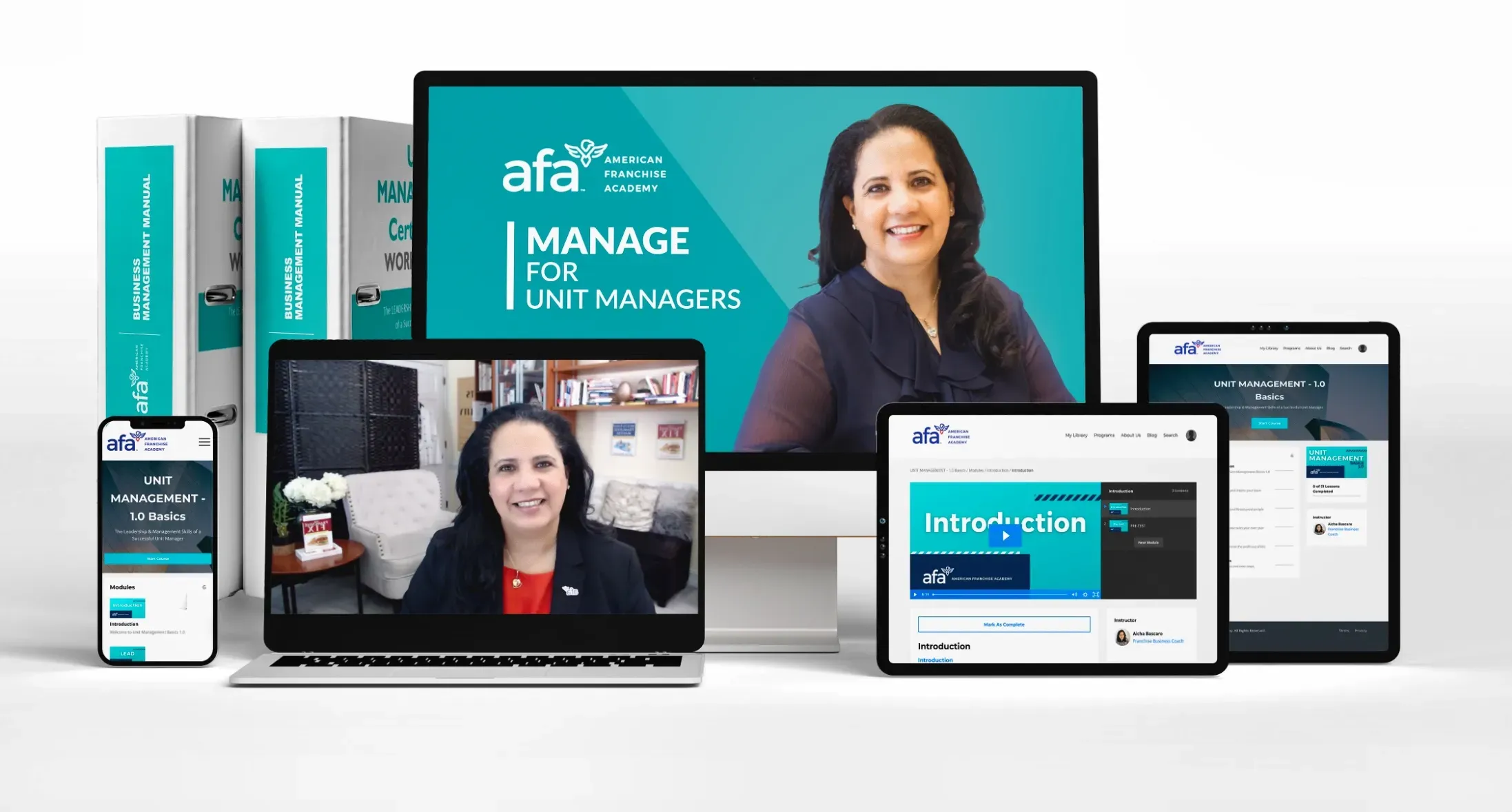 Unit Management Certification 1.0 + 2.0 you'll gain the Leadership & Management skills of a successful Unit Manager
Unit Management Certification 1.0 Basics
4 Weeks
LEAD
Be clear on your role and know what to focus on
Understand how leaders manage time, situations and people
Develop KPIs and training programs
Clarify role in leading company culture
STAFF
Understand staffing levels and scheduling
Manage recruiting and onboarding processes
Systems for discipline, motivation and termination
Monitor P&L: Variable costs related to labor
SELL
Understand sales elements and channels, including upselling
Improve customer experience and Unit reputation
Manage maintenance & local store marketing
Monitor P&L: Fixed costs related to goods
PROFIT
Understand controllables/non-controllables
Track inventory, and product and service costs
Use a Business Dashboard to track Financial Targets
Monitor P&L: Operational Profit
Take the next step to build a rewarding and secure career in business management and a path to get the next promotion
SIMPLE INVESTMENT
ONE PAYMENT OF
$750
MANAGE is open for enrollment 4 times per year

Class size limited to 25 to ensure students receive 

A personalized and quality learning experience How much time do I need to commit to the program each week?
What technical requirements are needed to participate in the program?
Is there a refund policy if I'm not satisfied with the program?
What payment options are available for the program?
Do I need any prior management experience to enroll in this program?
How often do you offer this program?
Hear From Our Satisfied Graduates
"I would recommend the program because it not only teaches you the importance of knowing business definition, but it gives you the tools to implement it all into your business AND personal life."
"I think it gets specific in spots where it truly matters. You don't spend an excessive amount of time on any one subject and all of them feel as though they are being handled adequately."
"I am an experienced GM and in the business for 18 years and still learn a ton of valuable information in this class!!"
"It taught many valuable lessons that can not only help me in a business aspect but also for my own personal leadership!"
"It's a great way to learn how to run your business based on actual business expectations that you can mold with your personal business expectations."